More of the baddest of the bad!

The Mighty Ox Baker. Mean lookin', ain't he? It don't get no better in person, folks. Reportedly was once stopped/questioned by NYPD officers (they had no idea who he was) because he "startled" them. Played "Slag" in Escape From New York.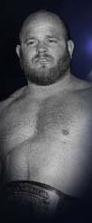 The Mad Dog! Buzz Sawyer was one of the nuttiest heels in years-a real wildass, Sawyer and southern legend Tommy Rich beat, kicked, and gouged each other back and forth across the nation for over a year. They never waited for the bell, but attacked each other on sight.
Ming the Merciless had it all-a FABULOUS wardrobe, an empire, concubines, rayguns, better theme music than Darth Vader, concubines, servants, soldiers, more concubines...Ming looked down his nose at EVERYBODY